Technology in Developing Nations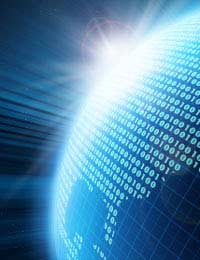 We accept technology as part of our everyday lives. Computers, mobile phones, MP3 players and the like are things we see and use all the time. But although they're embedded in our world, it's not like that everywhere. There are great swathes of the Earth where technology is the exception, not the rule.
At this point, China doesn't count as a developing nation, since so many people are online there and use mobile phones, although their online activity is limited by the government, which imposes censorship on which sites they can view and has imprisoned political bloggers for speaking. Think instead of large parts of Africa, South America, and even rural big areas in India and Pakistan, and the people there who have little or no access to the technological world.
Providing Technology
Perhaps surprisingly, it's not the computer but the mobile phone that has been the biggest technological advance to hit developing countries. Where there's no landline phone, as is so often the case, the pay as you go mobile has meant that so many in the population have been able to become connected in a way unimaginable before.
It's impossible to overstate the importance of the mobile phone in the developing world. Where transportation is limited and living conditions are difficult, the mobile provides a lifeline. For large numbers it's helped them not only to survive but also better their situations by being connected with other areas and making business dreams into reality, in crops, scrap metal and all manner of things; that's a huge, vital difference.
People in developing countries also become the recipients of the technology we discard, in several different ways. Working computers can be recycled there and made available in areas that would not otherwise have them. They might be old, but they work well, and bring the modern world to these places.
But there's also a downside to this. The items that can't readily be recycled, e-waste as it's known, has to go somewhere. The problem is we don't want it. So it ends up in specially created landfills in Africa, where the truly desperate spend their days stripping the CPUs to try and find the tiny bits of precious metals that are inside to sell. Our luxury has become their rubbish, and we've simply transferred our problem out of sight and out of mind.
Technology For Kids
There are attempts to provide technology for kids in developing nations. The One Laptop Per Child project was founded with the idea of providing kids these children – the ideal is every child - with simple but very functional laptop computers at a cheap, affordable price – the goal was $100.
It's never gone that low, but at $188 it's still quite reasonable, and a number of governments have purchased the machines, which are energy efficient, can be charged from car batteries if needs be, with a screen that can still be read in strong sunlight and a flash drive to avoid hard drive failures.
Although it hasn't yet proved to be quite the success the makers hoped – and it's received competition from another laptop, the Intel Classmate – it's making inroads with populations that would otherwise never have access to computers. It not only gives them more learning capabilities, but computer skills that can serve them well and bring more job opportunities in the future.
You might also like...