Cloud Computing and the Future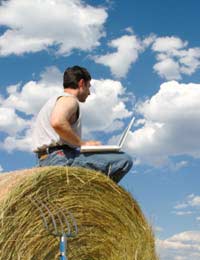 During 2008 a new buzz term hit the world of technology – cloud computing. It's a wonderful little phrase, and the people in the know have been very excited about it. But what does it really mean, and more importantly, how does it affect us, the ordinary consumer?
What Is Cloud Computing?
Boil it down to the basics, and cloud computing is a system where you do everything online. You access the Internet from your computer, but all your documents and data, and even the software to work with them, will be stored there on servers.
If that sounds big, it is. It will really change the way we work and make it easier to share documents and for people to collaborate on their work. But on a more personal level, it will mean you won't need to buy and install software on your computer, or, in the case of a computer crash, risk losing all your work because it's not backed up properly.
There are disadvantages, of course, and the biggest one is security. If someone hacks into the system they'll have access to data beyond their dreams, and doubtless the hackers will increase the frequency and sophistication of their attacks, so the cloud system – at its heart cloud just means Internet, really – will have to be very robust.
You'll also need to have Internet access to be able to get to your data, although there will have to be applications to allow you to work offline too; either that or we'll need much wider Internet coverage.
Cloud Computing Is Already Here
It all sounds very new and flashy, and much of it is. But there are really already cloud systems in place. Think of some of the webmail services, for instance, where you receive and send mail from the web without downloading it to your own computer, simply because you can get to it at any time. That's really cloud computing.
Services like Google Docs are cloud computing, too, where those documents exist on the company's servers. You can reach your documents easily enough and work on them, but they never touch your own hard drive unless you want them there.
Is Cloud Computing The Future?
There are plenty of people who see cloud computing as the wave of the future, both for business and personal use. There would definitely be huge advantages to it. It puts the strain on the servers, and takes it away from our own computers. We won't need huge hard drives because we'll actually be storing very little data at home or work. We'll simply need very fast, reliable Internet access.
That will hit the software market, and also all those computer manufacturers because we simply won't need all the bells and whistles we now have. What we'll probably discover, though, is that this utopia comes with a price tag. After all, it costs money to build and maintain those massive servers, and they will need software that does more and more. No one is going to provide all that out of the goodness of their hearts. So it might well all come with a monthly fee, much as we now pay for Internet access to our ISP's.
Will it all be worthwhile? For most of us, the answer is probably yes. There are plenty of pluses for businesses, where it should drive down costs. For the rest of us, it means our data won't ever vanish for one reason or another, things will be much simpler and more streamlined, and we'll have access to our files no matter where we are. It's almost certainly the future, and it's probably closer than we all think.
You might also like...