Has Online Shopping Made Life Easier?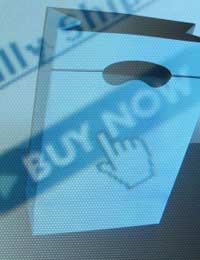 We've changed the way we go shopping. In just a decade online shopping – buying goods on the Internet – has gone from being virtually non-existent to become worth billions of pounds each year. Books, CDs, clothes, electronics, we go shopping online for them all, without ever leaving our living rooms.
Where we used to go into town or to a regional shopping centre, now we stay at home and surf the Internet. The widespread adoption of home computers and high speed broadband connections, as well as the number of retailers offering goods online has created a kind of shopping revolution.
These days we take shopping online for granted, an adoption that's happened remarkably quickly. We can even order groceries online with delivery the next day – if needs be we don't need to set foot out of our homes!
Why Has Online Shopping Become So Popular?
Online shopping offers immense choice. Retailers with bricks-and-mortar premises are limited in the amount of goods they can show or even keep in their inventories. That's perfectly understandable, since both represent a significant investment of capital. Internet retailers have no such constraints. They simply have to show pictures and offer descriptions of the entire range, making things much better for consumers.
Where those shopping in retail parks might have to wait for certain items (such as sofas) for up to two months, generally online shopping offers a swift dispatch of goods, eliminating that waiting time – after all, once we've spent our money, we don't want to wait.
Online shopping offers so many advantages for consumers. It's easy – retailers deliberately make their web sites simple to navigate and use – and with a credit card the world is your oyster. The choice can seem almost infinite, and we're not longer restricted to just buying locally or through mail order catalogues. We don't need to bother with opening hours, pushy sales staff, parking, traffic and the hundred other problems that accompany any shopping trip. The process can take as long as you like – or be over in a matter of minutes. You can buy from anywhere in the world. It seems like a Golden Age of shopping.
Consumers certainly believe so, as the e-commerce market has boomed to ridiculous levels. Even credit crunches can't seem to dim the appetite for online shopping.
The Future For Online Shopping
In 2006 the European e-commerce market was worth £66 billion. By 2011 that's forecast to reach over £200 billion, a massive increase – with Britain the biggest market of online shoppers on the continent.
No matter the economic climate, the forecast is that the amount spent shopping online will keep increasing year by year. However, as there's only a finite amount of money to be spent, if online spending increases, then spending elsewhere has to decrease, and those high street retailers, whether chains or independently owned shops will be the casualties – it's worth noting that most big retailers now also sell through web sites.
Of course, online shopping won't ever completely eliminate its physical counterpart. There are still areas where we prefer to go into a shop and select items – they're part of any community, from newsagents to supermarkets. But there's no going back, and online shopping will become an even more central part of our lives, growing more sophisticated with each passing year.
You might also like...
Nowadays, buying on the internet has become even easier than ever, because of platforms that help you to pay such as like PayPal, which makes you feel safer because if you buy something using it if something happens, PayPal is the responsible one. Also, technology is becoming increasingly prevalent in the world today. But what happens with the traditional shops? On the one hand buying on the internet can be cheaper, because we skip a lot of steps that are followed by the traditional shop to get their commodities. Furthermore, if they sold it at the same price that they buy it, they wouldn't get any gain. For example, I buy a smartphone on Amazon which price is 900€, however if I buy it at the shop that is in my neighborhood, it costs 999€. Resulting in I think that if we can afford paying a bit of extra money, we will assist owners by providing them our purchases. Nevertheless, if we can't afford paying that extra money, or the product we demand isn't available on physical stores, buying on the internet can be very useful and convenient, apart of affordable.
CARPATOS
- 11-May-20 @ 4:21 PM
I like online shopping since it has things shops might not always have in stock
poopypants101
- 28-Apr-19 @ 10:27 AM
I like online shopping, but not for myself for clothes as I am not tiny, so would rather go & try them on & it's nice to get out. Who wants to sit in front of a computer for hours getting a sore back
Raewyn May
- 24-Apr-17 @ 8:24 AM
Is online shopping changing our social worlds. Do we need the interaction with a human in a shop. Does shopping online become affected when we discuss our purchases with family and friends any on eBay or Amazon
Buffy61
- 30-Mar-16 @ 2:20 PM
Yes in this faast moving world people prefer to shop online which made thier life easier. Avanthika Ecbilla
Avanthika
- 29-Aug-15 @ 1:01 PM