Why We Need To Guard Kids Online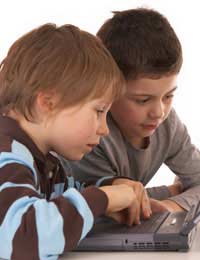 It seems perfectly obvious to say that we need to protect our kids when they go online, which they do more and more these days. The Internet is where they find everything from entertainment to information. But, being kids, they don't understand the dangers that Internet access brings, nor the need for safety. You might have drummed into them the lesson not to talk to strangers, for instance, but when something seems as abstract as the Internet, it can be hard for those lessons to translate there.
Kids And Internet Access
Kids spend a lot of time online – not only on the Internet, but chatting with others through games consoles, too, for instance. Depending on their age, it's worth considering a limit on Internet access. It's great to use, and they do also learn from it, but it shouldn't dominate their time – there are things to do outside, too, a real life to be lived. That's a matter of health, making sure they have ample exercise, so it becomes a safety issue, too.They should also remember that Internet access is a privilege, not a right, so removing it can be a very effective punishment – and deterrent.
Kids And Internet Safety
There are plenty of predators online and they make sure they reach kids, using plenty of guile. Unfortunately, it all too often works – according to statistics, one in four kids have physically met someone they first met online (although this doesn't always mean someone older). That's worrying for any parent.
It means you need to educate your kids, for their own safety, not to talk to strangers online, and certainly not to reveal any information about themselves. It doesn't just happen in chat rooms. The danger is there in multiplayer games like Runescape, or even when chatting with other online with a games console.
Hopefully, education should be enough. If you want additional protection there are other things you can do. There's software to block sites, and in most cases you can add to a list that's already there, although you'll have a password to bypass the blocks yourself if you need to.
Additionally, keylogger software can record and send you every keystroke your kids make on the computer, which can be useful if they're at home and you're at work, for instance.
Other Dangers On The Internet
There are direct dangers to your kids, but they can also inadvertently put your computer and your identity in danger, too. Kids download things from the Internet without thinking, unaware of the fact they might contain viruses, or they follow links to infected web sites that place malware on your computer that can send passwords and personal information – you won't even know it's happened.
How do you avoid that? You can educate them, of course, but things can still happen. You need to have a good firewall, antivirus and antispyware installed on your computer. However, simply having them isn't enough. They need to be updated very regularly, and you should run scans at least once a week.
If your kids have their own computer, which many do, make sure these are loaded on there, too, and used regularly.
It's impossible to keep your kids 100% safe on the Internet, but if you educate and use common sense, you can minimise the dangers that are out there.
You might also like...