Teens & The Internet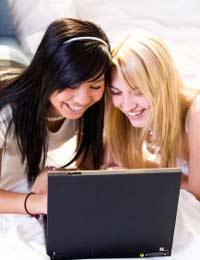 Most teens haven't known life without the Internet. They haven't been alive long enough to recall life before computers were everywhere. For them, a computer (along with the ubiquitous mobile phone) is not an extension of their lives, but a vital part of it. They research on the Internet for their homework, buy music, watch videos, instant message with friends and arrange much of their lives through social networking sites. Teens would be lost without the Internet. Take them on holiday without a laptop and they're lost.
They expect everything the Internet can deliver, and quickly and eagerly embrace every new development, taking them in their strides. Technology has always been a major component in their lives, from games consoles and remote controls to finding their way by sat nav when they begin driving.
Teens And Online Safety
The Internet is a natural playground for teens, and as such they often don't see its dangers. What are those dangers, precisely? All too often they're the same ones that can hit us all – computer viruses, malware, becoming part of a botnet, all the bad things that can hit a computer.
They download indiscriminately, not just music, but all manner of things, often without questioning where the materials come from. They indiscriminately accept invitations from friends to join sites, never questioning whether the request is authentic. They're used to posting information about themselves without wondering how those with criminal intentions might use it.
Like all teens – and not just this generation – they think they know it all and that they're bulletproof. The first time they discover that's not true can be a sobering experience.Those aren't the only dangers, of course. In chat rooms teens are susceptible to the attentions of predators, just as much as younger children. Teens can be very insecure, sometimes feeling quite isolated, and some will respond happily to sympathetic attention from those who prowl the Internet. In some cases the teens will meet those people after developing online relationships.
How To Keep Your Teens Safe On The Internet
Short of keeping permanent tabs of the Internet activity of your teens – and some parents do, installing keylogger software on the computers – it's impossible to completely supervise the online activities of your teen. By nature they're a little secretive, wanting to carve out their own identities as they grow.
However, there are steps you can take to help them:
If they use the family computer, make sure it's fully equipped with a firewall, antivirus software and anti-spyware, and that they're all up to date, with scans run on a very regular basis. If your teens have their own laptops, as many do, impress on them the importance of having this software and running scans. You might even suggest they use a browser like Firefox, which can alert users if they visit malicious sites. You can't preach about it, of course, that's a simple way to get teens to close off, but do gently impress the severity of the problems to them. If you use a wireless network for Internet access in your house, as many do these days, ensure it's password protected. That's not perfect, but it does give a level of security.
As to those predators, from a very early age you need to make kids aware of the problems of giving away information and talking to strangers on the Internet, just as you'd tell them not to talk to strangers in the street. Start young and keep reminding gently and the lesson will sink in, even if you're not aware of it.
Teens rebel, and all too often they think they know better than you do (and when it comes to technology, that might even be true!). Approach them intelligently, not talking down to them, being honest about the dangers of the Internet, and there's a very good chance they'll respond positively.
You might also like...