Parental Control & Social Networking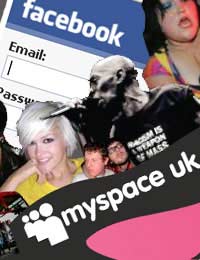 Just five years ago it didn't really exist, and now it's all over the news and the Internet. Social networking has taken the world by storm. Big sites like Facebook, MySpace and Bebo are worth millions, even billions, and attract millions of unique visitors to social networking sites every month, making them among the most popular on the Internet.Although initially marketed to the young – Facebook began as a site for university students before adding those in secondary school – they've expanded to finds fans of all ages.
However, the largest demographic is those up to the age of 25, and often includes those in their early teens. Even when they're not supposed to join social networking sites because of age restrictions, they'll lie. But as much as any chat room, social networking can be dangerous in several ways, so with teens it still needs parental controls, however much they might chafe about it.
The Dangers Of Social Networking
There have been several stories in the press about teens holding parties while their parents were away that were advertised on social networking sites. Instead of the invitation being limited to a person's social networking friends, as was intended, the word spread and hundreds of uninvited guests showed up, causing thousands of pounds' worth of damage. It's happened not just once, but several times, and often at expensive houses, necessitating police being called.
There's also the danger of identity theft from social networking. Teens in particular tend to put in a lot of information about themselves. That's not just names and ages, but dates of birth, e-mail addresses, information about family and even street addresses and mobile numbers. From that it's very easy for a hacker to steal an identity – the surprise, frankly, is that more teens haven't had their identities stolen from social networking sites.Add to that the usual problems of viruses, which remain thankfully small, although growing, and of online predators who see social networking as a playground, and social networking sites aren't as innocent as they might seem.
Parental Controls And Social Networking
Short of banning your teens from social networking, which isn't going to be popular when all their friends are on them, there are still things you can do.
Much of it relies on setting ground rules for the way you teens use these sites, and to set those rules you need to know a little something about the sites.
Insist that your teens only give a minimum of information. That means name, a birthday – but not the year – and if they have to give an e-mail address, then it should be webmail, such as Hotmail or Yahoo. There should be no mention of family, and certainly no address or mobile number listed.
You also need to make it a rule that if they're having a party – especially if you're not around – that they don't issue invitations via social networking. Of course, that's still no guarantee that there won't be gatecrashers, but it will help limit them.
Keep reminding your teens to use their common sense about downloads and invitations from social networking sites, that they're not immune to viruses and spreading them. Also they should not add "friends" indiscriminately without those people knowing other friends – remind them that it's a scary world out there.
You can't police all their behaviour for social networking and you probably wouldn't want to (they certainly wouldn't want it). But if you lay down rules clearly at the beginning and explain why they're necessary, you hopefully won't have any problems.
You might also like...