Texting & Spelling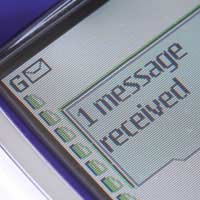 The technology age has brought drastic changes to the spelling and grammar of the English language, perhaps the greatest and the sharpest they've undergone. Even as we communicate more by text messages on mobile phones and instant messaging, we've created a divide and controversy about the way words are spelt and used.
How The Spelling Divide Happened
Texting and instant messaging use short messages – going back a few years there was a limit of 160 characters in a mobile phone text message (hence the SMS name, from short messages). To make everything count, people began abbreviating words, so you became u, are became r, and so on.
These short cuts, after being initially baffling, soon proved popular, especially with the young – who were the people mostly using text messages and instant messaging. Not only did the spelling allow for quick communication, it also helped differentiate them by offering a language of their own that was also, in its way, somewhat rebellious and guaranteed to annoy an older generation who'd grown up learning and living by the traditional rules of spelling.
It's been adopted and increased as successive waves have come along, finding abbreviations all over the place, such as 2 for to, 4 for 4, and simply shortening words, so text becomes txt, for instance.
How The Spelling Divide Has Developed
What's proved interesting is that a lot of people who would never dream of writing anything other than grammatical English with excellent spelling have adopted what's become known as textspeak when they use their mobile phones for texting, simply because of the convenience.
Others abhor it, and refuse to use anything but proper English. That creates a divide, but it's hardly the real problem. The big problem comes when the young think of textspeak as normal, proper English and begin using it in class or at work. That's happened, they've even regurgitated it in exams, which has left teachers and many others disconcerted.
Of course, many young people can and do differentiate between textspeak and proper English, using each appropriately, and there it's fine. However, there are those who can't or don't know the difference or refuse to use it.
What The Spelling Divide Means
The spelling divide has, in effect, created a new strand of the English language. The people using it understand each other perfectly, and many of the abbreviations have become commonplace. The whole idea is communication with speed, and to communicate it has to be readily understandable, which it is.
Textspeak will never replace proper English; that much is a given. But it will certainly exist in parallel, as it does now. As long as those in school learn to use English properly (and with doubts about teaching and spelling, there will be some who wonder if this can work), everything is fine, if they understand when it's appropriate to use textspeak and when it's not acceptable.
The danger comes if that balance ever shifts, the English language – at least the way most of us use it – could become undervalued and a thing of the past. Languages do develop and change (modern English is a very different beast to that of Shakepeare's day, for example), but this would mark the most radical shift.
There's no reason the two can't continue to co-exist, as they have done for a few years now. Textspeak, with all its short spelling, serves its purpose perfectly for mobile phone texting and instant messaging. It's streamlined and efficient, a solution developed from the ground up for the communication age.
The one thing it's not, which true language always should be, is a thing of beauty, capable of expressing emotions and descriptions. Of course, it was never meant to be that. Accept it for what it is, and make sure it doesn't take over, and everything is fine.
You might also like...