Does Social Networking Create a Community?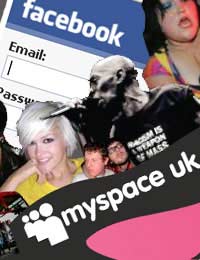 It seemed to arrive from nowhere. The idea of social networking sites, online places for people to keep up with their friends, say what they're doing, post photos, videos and generally share all they want about their lives, is a very recent thing, but one that's caught on in a massive, almost unimaginable way.
The initial popularity was with the young – and that was the intended audience. But it's spread out from simply being a thing for school kids and students into the wider population, covering all age ranges – one woman of over 100 has a page on a social networking site. The biggest sites, all with millions of members worldwide, have made their owners very rich people, even though the sites themselves are free.
What Is Social Networking?
In this day and age, when we have friends – either real life one or people we know online - scattered around the globe, social networking sites offer the chance to keep track of those friends in one place (and, conversely, they can keep track of you).
In that regard they give the chance to build personal communities, networks of friends, some of whom already know each other, many of whom will be strangers to each other. It's offering a different concept of community, one that's virtual, so it doesn't revolve around a place or an institution (such as a church, school or university).
They may well be the communities of the future, where friends can meet to play games, make real life plans, share music, join groups within the site – in many ways enjoy a very full life without leaving their living rooms.
The Advantages of Social Networking
The emphasis in social networking, of course, is on social. That said, businesses do use them, and many now allow employees time to spend on social networks – they can be valuable ways to increase and woo business contacts (some social networking sites are very specifically business orientated).
As ways to quickly stay in contact with people at the other end of the country or on different continents, they're excellent. It's easy to drop someone a quick note or receive one. That may not have the intimacy of a long phone call, but it's a lot cheaper, and easier still than opening your e-mail and typing.
What their rapid popularity has shown is the eagerness of people to connect and form a community. We want to keep friends and family close and this is a convenient way of doing it. The process of joining a social network is easy, as is finding your friends and relations on there.
Like all communities, social networks are evolving creations. New features are added, others quietly dropped. People come in, some leave. In many ways they actually mimic traditional communities.
The Problems With Social Networking
The biggest problem with social networking is that it's virtual. Leave the site and you're leaving the community, maybe for a few minutes, a few hours or a few weeks. There's no flesh and blood contact as there is with traditional communities (although these things can be arranged via social networks).Additionally, social networking sites have the effect of keeping us even more tethered to our computers. Whether it's playing a game, adding photos, or simply searching for people we know, they take up time that we're actually spending on our own at home – making the idea of community into a paradox and putting a different spin on the word social.
But then, as we already live so much of our lives virtually – obtaining entertainment, shopping, gaming – perhaps social networks simply represent an extension of that, and will become the real communities of the future.
You might also like...