Do We Really Talk Online?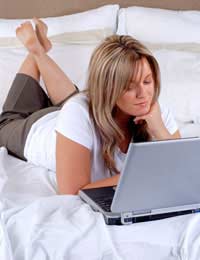 E-mail, instant messaging, chat rooms, blogging, notes and comments on social networks. We have many ways of online communication. But how much of what we says is really worthwhile? Do we really talk on the Internet, or just making a lot of noise that fills up bandwidth?
Of course, all these are tools, and from time to time all of us use them properly. But all too often, especially with chat rooms, social networks and instant messaging, perhaps we're simply seeking companionship rather than real conversation online.
What Do We Talk About Online?
Go into any online chat room, and watch the scroll as it moves. Unless you're in a specialised technical room, the chances are that so much of the talk will be inane, people talking about what they've just done, what they're going to do, the weather, all manner of things – joking insults are very common.
That's all well and good, but most of the time people who talk aren't really saying anything. There might be cybersex going on in a private conversation, or a few people might be arranging to meet. Most, however, are simply passing time, whether they're at work and bored – or at home and bored. The Internet, and especially chat, has become a global temporary cure for boredom.
It's much the same on social networks, posting comments on someone's wall or sending a quick message, maybe even chatting. The sites are certainly useful and popular, but again, how often are we really saying anything when we're communicating there?
What it boils down to, largely, is that as humans, we like the comfort of knowing others are out there, that sense of communication. Simply the knowledge of that, and reaching out, no matter what we and others are saying, helps us feeling connected. We might be at home alone or in a crowded office, but we still need to feel connected.
Even company Intranets, Internet networks set up within firms for quick communication, are used more for idle chat than business.
The Positive Uses Of Online Talk
These days many companies offer a live chat facility on their web sites, especially those which are selling items or offering technical help. You log in, wait in a queue (just as you would if you were on the phone looking for customer service), and in time you're connected in real time to an operative on the other end.
If you have a technical problem, in many cases it can be resolved there and then. Your order can be processed efficiently, and you can multitask whilst waiting on replies.That's one positive aspect of chatting online. Much the same can be true for specialised, technical chat rooms or bulletin boards where we can talk about specific topics with others who share the same interests and often a similar level of expertise.
The problem is that all of these are relatively few and far between. For the most part, chat is simply a way of passing time that we could use more fruitfully for other things.
Human nature being what it is, that's unlikely to change. The chat room, the instant message and those comments on social networking sites have been the online equivalent of the water cooler or the canteen – a place to gossip.
You might also like...