Online Search & Knowledge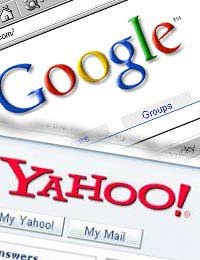 If you have the desire to know something about anything and everything, the Internet makes it possible. All human knowledge is there, or so people would have us believe. With literally billions of web pages, many of them containing information (as opposed to selling something, advertising or full of porn!), it's a wide world of knowledge online.
We rely on search engines every day for everything from addresses to quiz answers to research for papers and reports. Online search is a massive business, and it's made some companies like Google into very rich and powerful organisations.
Other huge companies – Microsoft and Yahoo – have pumped millions into expanding search, realising the ad money to be made from it as concepts become more refined and sophisticated. Wikipedia has turned into the encyclopaedia of choice for many people around the world – it's available now in dozens of languages.
How We Use Online Search
How many times a day do you log onto a search engine (consider, too, the fact that the term search engine has become part of the common vocabulary)? The chances are several. We've come to rely on online search for all matter of knowledge, from the trivial to the complex.
A generation has grown up that knows only how to research online, rather than using libraries and books to find information, although, it has to be said, they rely on the Internet for almost everything.
But it's not just the young. All computer users rely on the Internet more and more, especially since high-speed broadband connections became the norm rather than the exception. If we want to know something, need knowledge of a recipe, a phone number, or whatever, we go online.
Perhaps the greatest beauty of online search is that there's no limit to the topics covered. No matter how obscure, you can almost certainly find what you need in the first two or three pages of search listings. It's quick, and above all, it's easy.
The effort has gone out of searching for knowledge, as if it were a game of trivial pursuit; instead we really on those who've already been there and read their reports. Everything, almost literally, is at our fingertips.
Has Online Search Increased Our Knowledge?
We look online for more pieces of information than we ever researched before. Previously we'd have never bothered with minor questions, forgetting them completely before we'd plan our next trip to the library. Now we just log on and find that extra little nugget of knowledge. Whether we remember it not is another matter, of course…
We can certainly find out more information about more things. Following links on a web page can deepen our knowledge on a subject, although you're not going to become an expert on any one thing simply from online knowledge.
We may think we're learning a lot online, but much of it is surface knowledge. To really understand a subject still requires a lot of study – and plenty of books from the library. But you can certainly gain enough knowledge online to write an essay for school or compile a report.
The problem might be that we could be losing our desire – and capacity for – deep knowledge, as it's called. More than ever before, it's in danger of becoming the province of specialised researchers.
So online search is not perfect, by any means. But, as the software engineers behind search engines learn more themselves, Internet search is growing. More web pages, thousands of them added every day, constantly add to the weight of knowledge.
We just have to learn how to use it. Online search is speedy and convenient. But all too often we mistake our results for real knowledge. That's still out there, but it takes more effort, something for which we often have neither the time nor the inclination. Much of the time, knowing a little about a lot is sufficient. Yet it's worth bearing in mind that for real knowledge, we still need to work a lot harder.
You might also like...