Internet Safety & You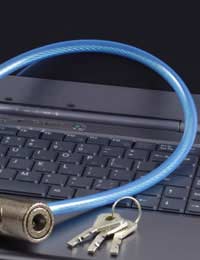 We spend more time than ever online. According to Ofcom, in 2007 the average Briton spent 24 minutes each day online – that might not seem a great deal, but taken over an entire year, it mounts up.
Many people don't think of the Internet as a dangerous place, just as somewhere for information and shopping. But with every passing week, beneath the surface, it resembles a wild frontier with more dangers than most people can imagine. That's why Internet safety is more vital than every before.
The Main Dangers To Internet Safety
We've all heard of spam, those annoying e-mails advertising all sorts of useless items. They clog up our in boxes and actually account for around 90% of all e-mail traffic. But they can also be a threat to safety online.
Click on a link in a spam mail and you could find yourself at a web page that automatically puts malware – viruses – on your computer, effectively allowing someone else to control your machine without you even knowing it.
You might well end up part of a botnet, a whole army of infected slave computers distributing spam – and again, you wouldn't know a thing. Or some remote server might be harvesting details of your passwords, bank accounts, and whatever other personal information you use online. That's why Internet safety is such a critical issue.
Add to that those phishing mails that purport to come from a financial group and need you to click on a link urgently to keep your account active. Do it, and you'll find your computer infected, or suddenly your bank account might be emptied, or you may have charges you don't recognise on your credit card bill.
Those are just some of the dangers from e-mail. That doesn't even take into account redirected web pages, exploitation of flaws, and the hundred and one other problems hackers and criminals pose. If you use a wireless network at home, it needs to be password protected, or someone could easily hack into it and steal all your personal details. Go online and you're wandering through a minefield without a map. Safety when you're online is an ongoing issue.
Achieving Internet Safety
It might not be possible to achieve 100% Internet safety. Whenever one flaw is fixed, hackers always find another to exploit, so Internet security companies will always have a secure living.
But there are plenty of things you can do to minimise risks to your safety when online. You should have a firewall – there are plenty of free ones available that do the job very well – and virus protection. Keep them both on whenever you're online, and update them often. Run virus scans on a regular basis, at the very least once a week (many will do this automatically, or you can schedule scans).
That's a bare minimum. Spyware has become more and more common, so your computer should be equipped with antispyware, too, which is software that can detect and delete spyware and stop your computer ending up as part of a botnet.
Again, there are brands available to buy and others available online for free. As with everything else, you need to run scans regularly – simply having the software doesn't stop infection, but finding and deleting it on a scan keeps you safe online.
What browser do you use? For many with Windows, it will be a version of Internet Explorer. But there are alternatives available, which can offer much greater Internet safety – they can advise you if the web page you're opening is infected, for instance. Every step to safety on the Internet is a good one.
Although viruses on Apple computers are rare – leaving Mac users very smug – they have begun. Nor does having a Mac mean you can live without the firewall or virus protection – those should be standard on every computer.
Ultimately, Internet safety is an issue that concerns everyone with a computer. You don't need to understand the technicalities of the dangers to know they exist – but you ignore doing something about them at your peril!
You might also like...
thanks for your information please send me your Emails about tecnology and comunication age.gool luck. Rahmat
Raman
- 23-Jan-13 @ 7:47 PM