Effects Of The Communication Age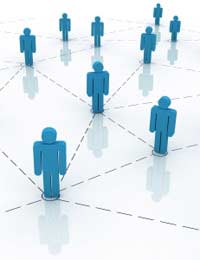 There has been a revolution in communication since 1995. Starting then, computers with Internet access and mobile phones became a regular part of the landscape and transformed our lives. Suddenly a whole world of information was available, and we could talk to people almost anytime, anywhere. At home, at work, we were in touch.
That was just the beginning. Soon we could shop online, play games, chat – we could live complete virtual lives. With laptop computers we could work, surf and do everything from hotels or anywhere. Broadband has helped us do it faster, to make downloading music and movies part of our lives.
We've become addicted to communication devices and developed communication skills none of us could have envisaged not too long ago.
The Effects of The Communication Age At Work
It's not that long since the only people who really typed at work were secretaries. Now everyone does it, there's a computer on every desk and if we take a business trip, a laptop is part of our luggage. E-mail is a vital part of communication. We share documents, assemble reports, give presentations with it.
Frankly, these days we'd be lost without computers. Businesses spend thousands on them and everything to do with them – creating intranets, web pages, everything to make business more efficient and with a higher profile. Without them, these days the wheels of commerce would quickly grind to a halt.
Similarly, business has come to depend on the mobile phone. It lets a workforce stay in touch, allows for quick dispatch of staff without using radios. We can check in at any time – and conversely we're available at any time, on the road or at home, thanks to mobiles. With smartphones we can even carry mini-offices in our pockets.
The technology of the communication age has made us more efficient. Communications are faster and fuller than before thanks to advances in communications devices. But, in spite of that, we work longer hours than ever, and harder. The things that were supposed to make our business lives easier have end up making them more complex (ever sweated over a crashed computer or lost a document in it?) and tougher.
The Effects of The Communication Age At Home
The majority of homes have a personal computer these days, many with broadband connections – which we need for all the things we've come to expect from our machines. The home computer has become more than a communication tool, it's become a hub.
From it we find out information, shop, download everything from music to movies to make it into an entertainment centre. Yes, we do use it for communication, too, sending e-mails, instant messaging, voice chatting, using social networks – our communication skills have never been higher.
But communication devices have become a major part of our personal lives. We make calls on our mobiles and together send literally billions of text messages every year. We take the availability of others – and ourselves – for granted.
Computers and mobile phones have not only made personal communications, but also our personal lives, much richer and easier. But at the same time they've become such central features in our lives that we'd feel lost without them. In 2007 we spent an average of 10 minutes a day on our mobiles, and 24 minutes daily online.
Communication has become vital. Yet, for all that, one thing hasn't changed – we still love TV above all, as we watch over three and a half hours a day each. We might love to communicate, but we still love passive entertainment more.
You might also like...