Buying On Your Mobile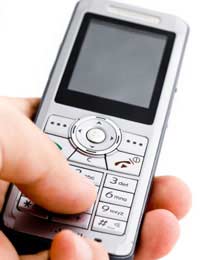 Mobile phones can do a lot these days. They store music and video and we play games on them on the train or the bus. You can watch TV on them and access the Web – and, of course, you can make phone calls on them, too.
We rely on them, often consider them our most precious possessions, and we'd be lost without them – many of us seem to carry our lives on them.
But one thing we rarely use them for is making purchases.
That's odd. A lot of the technology is in place, and experts predict that the mobile web could be bigger than home computer – after all, almost everyone has a mobile phone. So why don't we really use or mobiles for buying?
What We Expect From Our Mobiles
It's not that long ago that we were happy that mobiles could simply make calls. Mobile phones made our lives much easier – and more complex at the same time. Then came the camera phone, and very quickly more and more technology was poured into handsets that became smaller and smaller.
A lot of people do use the mobile web. It's a great way to get information on the move, even if you do have to pay data transfer fees. But if you really have to have that latest football score or know what's happening in the news, it's fantastic.
We do buy music, videos, TV shows and ringtones from specialised download stores that are made for mobiles. That's been an advance.
Truly buying something from mobile phones, however, is a different matter. It's not part of our consciousness yet. There are applications out there that allow you order a pizza using a text message, for instance, and for small things like that, where you're on your way home and want something delivered, that's fine.
Do We Want To Buy On Our Mobile Phones?
Schemes have been launched to allow mobile phones to be used for buying tickets – they might replace London's famed Oyster cards in time – and in Japan consumers essentially use their mobiles as wallets, allowing them to quickly and easily rent DVDs, buy theatre tickets or groceries from their handsets. You put money into an account and, with the appropriate software on your mobile phone, you can simply hold your card against a reader-writer for the transaction to happen.
Of course, although that's using your mobile to buy items, it's not exactly what most of us think of when we consider buying on our mobile phones. To most of us that involves going online using the phone's WAP facility, visiting a web site and making a purchase.
However, for those without the newer 3G phones, which are faster, connection times are slow compared to home computers, and the whole process is a lot more awkward than sitting in front of a screen and using a full keyboard. Many sites simply aren't geared to the small size of a mobile phone screen.
What works easily on a computer becomes a lot more involved on a mobile. We love buying, we love mobile phones, but for the most part the two don't work easily together yet – and we need convenience, as well as security, for buying on the mobile phone to become widespread.
That will undoubtedly happen, and in all probability very soon, as navigating the mobile wed becomes simpler even for those without smartphones. Until that time, however, it's unlikely that many of us will be buying much on our mobile phones. But the future is just around the corner, and closer than you think…
You might also like...