Watching TV Online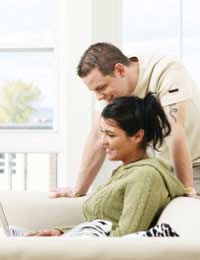 It should seem almost ridiculous to talk about watching television online. After all, isn't that what your television set is for, and with the wide screen, high definition models available these days, a computer monitor, no matter how fancy, can't hope to compete.
But the fact is that we live in a time where people do watch TV online, and the whole idea of online TV, using the Internet, is growing. It might not be so much for programmes as they happen – the majority of people will stick with the television for that – but to catch up with something you've missed.
Yet online TV can be useful if there's something you want to watch there and then and you've forgotten to set your DVD recorder to catch it. You might be in a Wi-Fi hotspot, for instance. Depending on the channel, there are ways to watch "live."
Do We Need Online TV?
Why would we need to watch TV online when we can do it perfectly well on our TV sets, DVD and hard drive recorders make it easy to store programmes for later?
For now, at least, online TV is a poor second cousin to the real thing. We can use it to catch up later if we have forgotten to record, or if we're too lazy. For instance, the BBC's iPlayer service, you can download a show for up to a week after it is aired, then have another month to watch it (or you can just stream it). This has proved phenomenally successful, so much so that it has raised issues about the use of bandwidth in the UK. Channel 4 also operates a similar service, as does ITV.
In other words, for now it's the backup, and in time could even prove to be the replacement for recorders as we simply access the show online and watch it from there, by streaming or download.
We can also buy episodes of TV shows to download from the Internet. That's fine if there's something you just absolutely have to see, but if it's part of a series and you're that enthusiastic, the chances, quite honestly, are that you'll wait until the DVD of the whole season appears.
It should be remembered, however, that online TV is still very much in its infancy. Thanks to video-sharing services like YouTube we've become very used to watching video on our monitors, and the growth of services offering movies for download means this is likely to increase – and with newer TVs it's quite easy to use the Internet to grab video and then watch it on TV.
Streaming live TV means watching TV online as it happens, and it's already available, although with free services the number of channels are limited. It's far from perfect – depending on the speed of your broadband connection, the show can buffer quite a bit and the picture quality is a lot lower than television, but if your TV has a problem, then it does allow an alternative, letting you watch TV online.
The Future Of Online TV
Can online TV really take off? There are more and more services offering online TV, offering the chance to use the Internet to watch shows from all over the globe on your computer.
Unfortunately, outside news programmes, most are shows that are unlikely to find a wide audience, not the blockbusters that would have people glued to their monitors. For now, at least, you can't be in the UK and watch the latest episode of your favourite American sitcom as it airs in the US.
Will that change? Over time it very probably will. The Internet is a global medium. People travel all over the world and move from country to country but still want to be able to catch up with things from home. In a few more years we'll likely be able to see live streams of all channels from all over, once the legalities have been overcome (and the problems are legal, not technical).
The picture quality will improve and well within a decade the experience of online TV will compare quite favourably with sitting in front of your TV. The only problem, just as it is now, will be finding something you want to watch!
You might also like...