Flying Cars: How Far Are We from Developing and Using Them?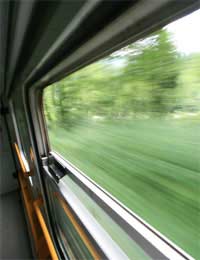 The idea that cars can fly has been explored in the realms of fantasy in film. For instance, the Fifth Element film starring Bruce Willis features nothing but flying cars. In that film, the buildings were all very high and the traffic flowed down the street at several different "altitudes".
Even though the cars didn't operate on the road in that film laws were still in place to legislate "air traffic", as evidenced by the flying police cars in various scenes. In the future, we may well have to think about how the law would operate, even if it now seems to be a long way off. There are other technical factors to consider of course, such as what would happen when the vehicle ran out of fuel!
Examples of flying cars in other films include Chitty Chitty Bang Bang, and one of the Harry Potter films. So in a nutshell, the idea of a car that flies is on our minds!
Air Traffic Laws
The usual rules to this kind of travel may not apply as we may do away with physical roads. Although this is unlikely as we will still need to transport heavy goods and we will still need buses, which will only work on the road (probably). Perhaps flying cars will only be allowed to operate at a maximum height to prevent them from interfering with standard air traffic.
What Progress Has Been Made? Are Flying Cars Imminent?
So what progress has been made towards producing real flying cars in the real world?There have been various attempts at creating flying cars. One of the problems is the definition of what is a flying car? Is it a plane which can land and use the road in the normal way, or is it a car that can take off and avoid the traffic jam? Nice thought, anyway!
Terrafugia
In 2006, a startup company by the name of Terrafugia, headed by a student prize winner by the name of Carl Dietrich announced an idea to create a plane which could also work on the road, i.e. a driveable aeroplane. One of the criticisms faced about this was that it looked more like an aeroplane, than a car, it is not a true "flying car" in that it does not look like a car which flies without extra fittings such as wings. In other words, it does not look like the cars in the "Fifth Element" film, which move in the air rather than on the ground.
The Terrafugia actually looks like a traditional car with wings. It has actually been flown and tested successfully, over a limited distance in the air. On the road, the wings are folded so it looks like a (strange) car. The speed of the vehicle is restricted to normal road speed conditions when in "road" mode (about max 80 MPH). When the wings are then unfolded (obviously not near other cars!) automatically the car effectively becomes an aeroplane and lifts into the air. The air speed is approximately 150MPH and according to the tests is a reliable vehicle and quite safe in flight. More research is required before we see anything like this on the road (or in the air). Perhaps this initial prototype may lead to cars without wings which not only operate on the road, but work in the air, as we all imagine them.
The Benefits of Air Travel (on the Road)
This is only one attempt at this idea, and is one of the most well known. However, we are probably sure to see developments and different ways of approaching this, from of "would be" flying car inventors. I think we are all agreed though, that it would be great not to have to wait hours in traffic jams and not have to stick to conventional paths. Why go from A to C via B, when you can go straight from A to C direct? However, if this ever does happen the rules of the road may well just move to the rules of the air, and no doubt there will be areas where flying cars will not be able to venture into, like military zones or built up areas.
How Do You Describe a Flying Car?
No doubt the technology will be developed; it's just a case of when and how it will be defined. Before any of this can happen it is necessary to clearly define what constitutes a flying car. There are many interpretations which will no doubt be considered in the future. Watch this space!
You might also like...