Can Technology Prevent Us Having to Wait for Buses or Trains?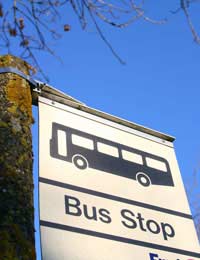 How many of us spend half our lives waiting for buses or trains for work, play, visits etc and they are late, or worse, don't turn up at all? It is probably reasonable to assume that there are hundreds of thousands of us waste time at bus stops and train platforms every day in the UK.
So let us put an idea to you. How about, instead of wasting time standing around you had a coffee in the cafe and relaxed, or waited a little bit longer in your relative's house in the warm, rather than at the bus stop in the freezing cold? How could you do this without risking missing your bus or train?
The Technology Already Exists!
Simple! You look at your mobile phone and you can see on the Google map or GPS that your bus or train is still miles away so there is no point going to the stop just yet. Would this facility be useful? You bet! The technology to achieve this is already available but has not yet been conceived as a public transport tracking mechanism.
Wouldn't it be great if you knew exactly when your bus or train was going to arrive, instead of waiting around or relying on inaccurate bulletin boards?
Google Latitude Shows Us How
This can all be achieved by utilising technology already in existence today. For instance, Google have recently added to their vast array of useful products by letting us find out where our friends are on Google Maps, via the use of their Google Latitude service.
So what is Google Latitude? Google maps has been around for some time, and now we can use GPS in conjunction with Google maps to plan out a route when travelling. The Latitude service extends this so that we can pinpoint exactly where our friends are (or where they have been) by simply looking at a Google Map.
Tracking Our Bus or Train So We Know Where it is!
So what has this got to do with public transport and buses and trains? Well, as you can imagine from the Latitude system, it is possible to track people on the move, so why not use a similar system for public transport? The benefits of doing this could be enormous, and it would save us so much time in waiting around at bus stops and train platforms until our transport arrives.
So how could a system like this work? Well each bus or train would be fitted with a tracking device which would automatically be allocated both a service number and some other identifier which would show up on our mobile phones on Google maps or some other mapping system via use of GPS.
So, rather than use existing systems which sometimes get the expected time of arrival wrong, such as text message services or automatic train announcements, we would know exactly where our service was by looking at our online map!
Existing Systems Don't Work Accurately
The problem with existing systems is that they are usually based on an estimated time of arrival. They are not always accurate, and very often there is no way to find out with existing methods if a train or bus has been cancelled.
Examples to Avoiding Acting Like a Banana!
Now let's take a look at a couple of examples how this would work. You are waiting for bus service 1140 on your mobile. By the looks of the GPS on your mapping service, it has not set off yet and it is due in only 10 minutes. It normally takes an hour to arrive from setting off so there must be something wrong. You check online or phone the bus company and find out that your bus has been cancelled. You can then make alternative arrangements or check for the next one.
All the time this is happening you are not stood in the rain or snow at the stop waiting like a "banana" for buses which are never going to arrive. You are sat in a nice warm cafe or having a beer somewhere! After, all there is no need to even go to the stop yet if you know it is not going to turn up! Let's take another simple example. Service 1180 is due in 10 minutes, however you see from your GPS mapping service that it still has a long way to go before it reaches your stop on the map. You then check the estimated time of arrival to where you are and it says due in 30 minutes. Therefore, you may as well carry on what you are doing until it draws closer!
The Future Looks Better for Public Transport and the Public
The benefits of this kind of tracking technology would be great for public transport, on both buses and trains. The technology already exists but has not been realised by the transport companies yet. This will probably change in the next 10 years or so, and will provide huge benefits in wasted time "standing around".
You might also like...