Casual Gaming & The Video Gaming Explosion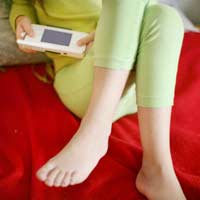 Until fairly recently, video games were the province of those who wanted to put in the time and effort to beat long, often complex games. Many were known as first person shooters, involving, as the name implies, plenty of violence and some gore, and they have a big audience, especially among the young, with people up to their thirties all fans.
That area of gaming remains strong and keeps growing. Some series, like Grand Theft Auto and Halo, have become quite iconic among gamers. Other, gentler areas, like The Sims games, also found large followings – but they, too, require time and dedication.
But a lot of people simply don't have the time or the inclination to invest in games like those and couldn't see the sense in spending a lot of money on games consoles just to play occasional games of football or table tennis.
What's changed the entire face of the video game industry is casual gaming.
What Is Casual Gaming?
Casual gaming, as it's called, really means short, fun games that bring in all members and generations of the family. They're easy to navigate and play, don't involve any role playing or violence and they're the type of game you can simply start or stop whenever you want.
By making gaming appeal to a much wider audience, especially in terms of age, casual gaming has broadened and already lucrative market and fully brought video games into the sphere of home entertainment. Although casual gaming exists on the X box and Playstation 3, the revolution has been with two offerings from Nintendo, the DS (especially the DS Lite) and the Wii console.
The video games for these, such as sports and Brain Training have been specifically designed to be more interactive, both mentally and physically – and to allow both an older generation and very young kids to play on equal terms and have fun. For the Wii, for instance, the controllers are used in a much more natural way, meaning people don't have to learn different sequences of buttons, for instance. Additions like Wii Sports have also proved very popular as a fun way of getting fitter, while games for the portable units like the DS can be very entertaining on trips or the commute to work.
The Impact of Casual Gaming
Video games were already big business before casual gaming properly arrived on the scene, but casual gaming has made the market explode. The first Christmas the Wii went on sale, demand far outstripped supply, and new additions, like Wii Sports, as well as new, popular games have also sold incredibly well.
That's not to say people can't play more hardcore games on the console, too, but it's real audience has been the casual gaming crowd, and made other manufacturers consider not only the titles of games they offer, but also other things, such as controllers. Obviously, with such a massive market – it's growing by 20% a year and is currently worth over £4 billion annually – everyone wants a slice.
Of course, casual gaming isn't limited to activities on the Wii or similar things – classic games like Tetris and Solitaire count, too – and it has other advantages for games manufacturers, since it costs far, far less to develop a casual game for the market than the expensive, graphics-heavy games for hardcore gamers.
Having brought in more people to casual gaming, the trick is to keep them interested, which is why new games and ideas keep appearing, and there seems to be an almost inexhaustible supply of ideas.
Now the market has cracked wide open, casual game is here to stay, with people of all ages aware of the power – and pleasure – of video games.
You might also like...